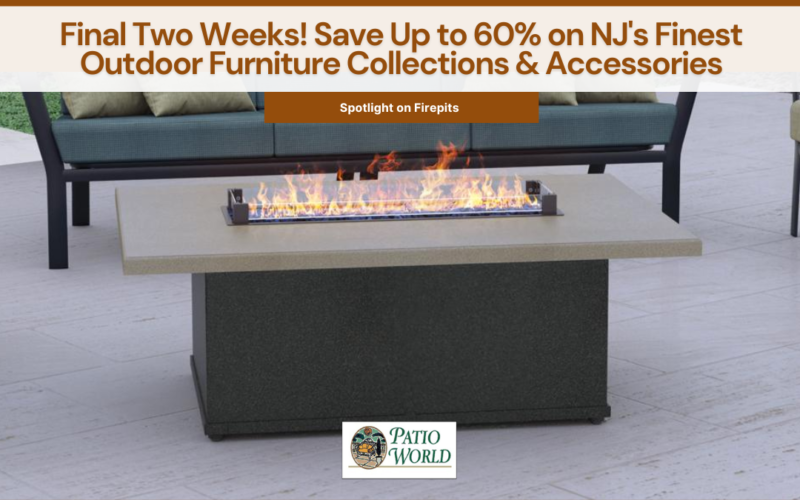 Hurry! Our Final two weeks of our End of Year Final Clearance! Everything Must Go! We're closing for the season! Choose from over $2 million in upscale patio and outdoor furniture and accessories at amazingly low prices! Up to 60% off!
The leaves and the season have turned, bringing crisp Fall weather. Now's the perfect time for firepits and firepit sets – at the best prices of the year! Whether you want to bring a romantic glow to your patio, toast some s'mores for the kids, or have a stunning statement piece for backyarding, firepits are a terrific addition to your outdoor space.
We always have the lowest prices in the area: We guarantee the lowest prices for your brand name luxury outdoor furniture selection within a 30 mile radius of our Lawrenceville, NJ store. Plus, we offer White Glove delivery to NJ and PA.
We're known for great customer service and we look forward to serving you! We'll be happy to advise you. Stop by to see our collections. Can't make it to the store? FaceTime tours and free consultations available. Call now.
#outdoorfurnituresale#patioworldNJ #shoplocal #endofseasonsale #upscaleoutdoorfurnituresale #casualentertaining #facetimeshoppingtour #patioworldNJ #facetimeshopping #firepit #firetable #firepitsets