We're Open, and Our Pre-Season Sale is in Full Swing!
Open Daily 11 AM – 6PM Sunday Hours 11 AM- 5 PM
March on in to save 10% on every item in the store
Spring is just a few weeks away, and summer will be here before you know it.
Savvy luxury outdoor furniture shoppers have the march winds in their sales and know better than to blow a great deal when they see one!
Shop early and…
Slash 10% off our already discounted prices on ALL in-stock outdoor furniture and accessories. No exceptions!

Get a Free Umbrella with purchase – minimums apply.
It's Back by Popular Demand – Get a Free Famous-Maker Umbrella with Your Purchase of $2500 or More.
Purchase any combination of in-stock, ready-for-delivery merchandise valued at $2500 or more and receive a FREE high-quality umbrella of your choice valued up to $199.*
Or, choose a higher-value umbrella and we'll take $199 off our retail price!
Terms and Conditions
*Includes in-stock merchandise only. Offer cannot be combined with prior advertised sales or any concurrent promotion. Our policy is to price match other retailers located within our immediate area, up to 30 miles. There are no exceptions to our policy.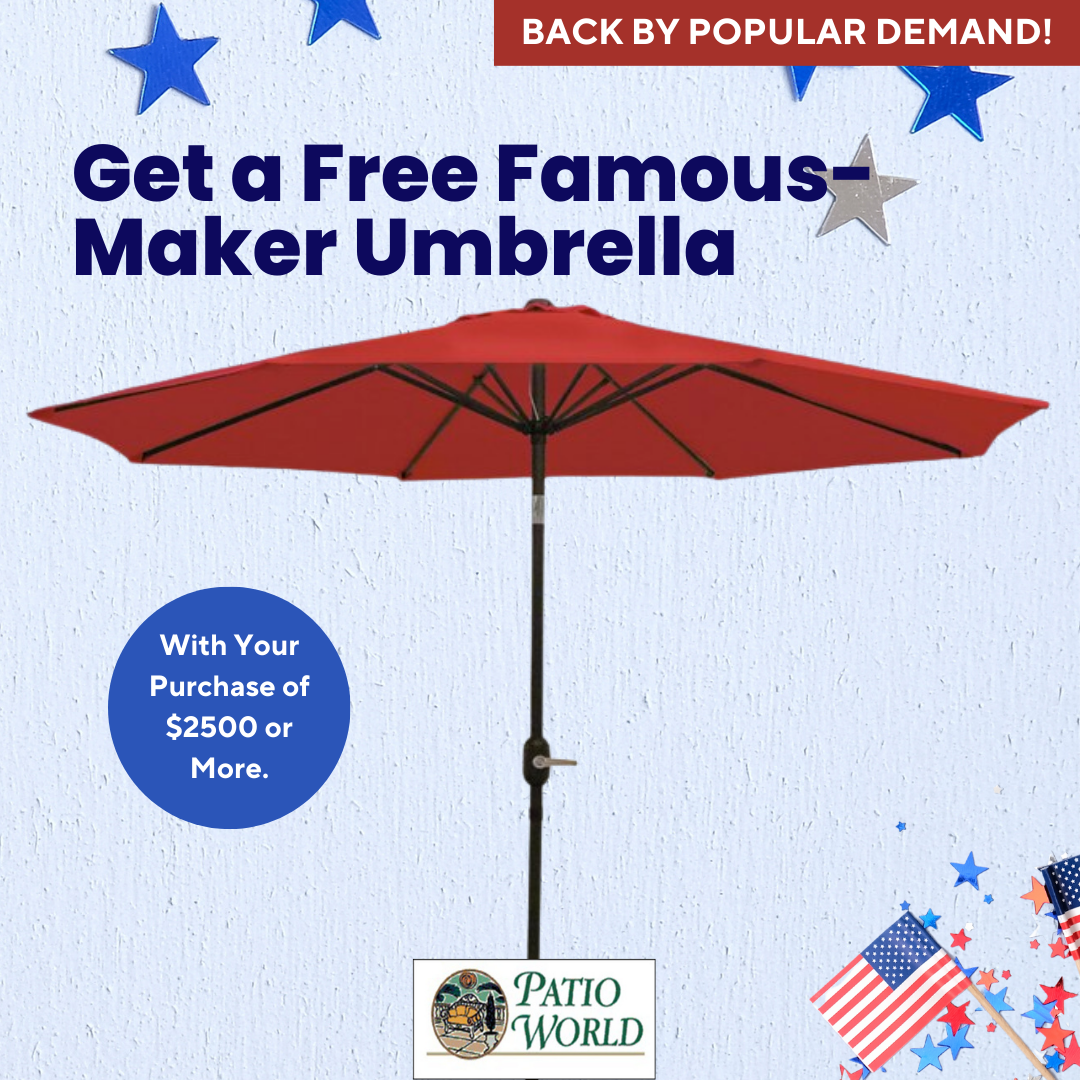 Patio World NJ is your Headquarters for Luxury Outdoor Furniture at Every Day Discounts
Patio World guarantees the lowest prices* and we carry hard-to-find outdoor furniture, accessories and umbrellas by top manufacturers, including many American-made brands. Our sizable inventory includes sofas and sectionals, chairs and ottomans, dining sets and side tables, bistro sets, bars and stools, luxury pool and deck furniture, firepits, daybeds, umbrellas, pillows and slings, and much more. In fact, if there's something that can help you enjoy your outdoor space even more, we carry it and we can ship it to you.
Shop the Ultimate in Upscale Outdoor Furnishings at Up to 50% off Manufacturer Suggested Retail Prices!
We can't wait to show you our 2023 outdoor furniture collections that mix style, sustainability, weatherability and the all-important wow factor – and everything in our inventory is discounted.
We believe you shouldn't have to sacrifice quality for price.
With the area's largest selection of upscale, brand name outdoor furniture, Patio World, New Jersey makes it easy and affordable for you to create your outdoor space in your unique style.
Patio World New Jersey's owners are local and we have been in business for decades. We want you to know how much we appreciate your support of our local business. We enjoyed serving you in 2022 and look forward to continuing to provide a great shopping experience in 2023.
Designers and Contractors Welcomed!
Our Contract and Hospitality Division and Designer and Decorators Program is as competitive as going direct, but with the added benefit of delivery and set-up. Enjoy the comfort level of having a local contact and just as importantly, keeping your local dollars in the community in which you and your clients live.
Patio World, NJ stands head and shoulders above our competitors. We offer local, personalized service- (what other owner provides their cell number?) — and we provide a great shopping, buying, and ownership experience. If I can help you in any way, please contact me directly. I look forward to hearing from you.
Thank you, 
Perry A.
Patio World President.