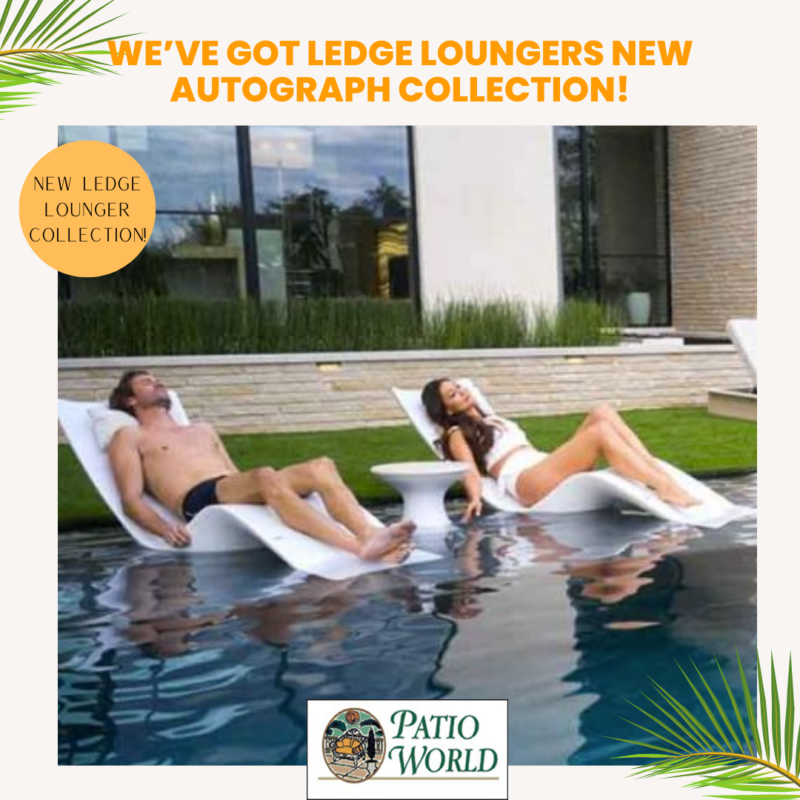 You might want to sit down for this! Ledge Loungers' new Signature Series' Autograph Collection is here –  with updated features to enhance your relaxation experience.
We've got the new Ledge Lounger collection in-stock and ready for delivery. We ship everywhere! 
Level up your pool's ledge with the Autograph Chaise, Autograph Chair and the new Side Table. When you don't want to take a swim, or even change into a swimsuit, you can have a seat in the water to soak up the sun with the Autograph Collection.
Autograph Collection: Ledge Lounger's Newest In-Pool Furniture
Ledge Lounger furniture is built to withstand sun, weather, and chemicals of any pool or outdoor environment. Their newest in-pool furniture has striking architectural silhouettes featuring enhanced ergonomics and lumbar support.
Proudly designed and manufactured  in the USA from color-stabilized UV16 resin, this in-pool furniture can withstand up to 16,000 hours of direct sunlight without ever losing its luster. Ledge Lounger products are designed to complement traditional, contemporary or modern outdoor spaces, for years to come.
We're known for great customer service and we look forward to serving you! We'll be happy to advise you. Stop by to see our collections. Can't make it to the store? FaceTime tours and free consultations available. Call now.