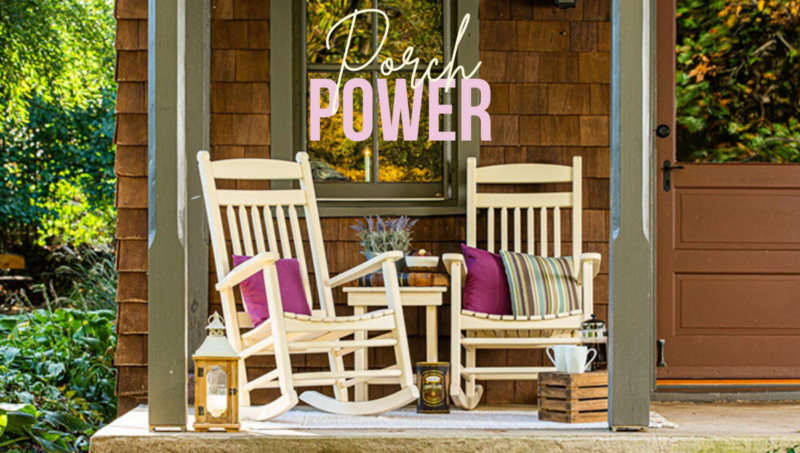 We've all been to homes where the porch and lawn look so inviting that we feel as though we've been presented with a big smile before we even get through the door.
At Patio World, we call that "porch power."  Porch Power is often accompanied by (front) lawn love, whether it's just a small plot or a lavish expanse of green grass, shrubbery and flowers.
So, if you are in need of some porch power and some lawn love, look no further than Patio World NJ. We have a great selection of weather-worthy furniture sets, tables and chairs, rockers, swings and accessories to pretty up your porch and lawn as the flowers and trees begin to bloom and milder weather sets in.
And please don't feel left out if all you have is a small terrace or landing – there are space-saving options for everyone that lift the spirits and showcase your personal style.
We have so many choices and styles to choose from. Here are a few suggestions to consider.
Wicker
Combining weatherability and classic appeal, white, grey or natural wicker pieces were just made for porches and landings. Choose from bistro table and chair sets, generously-cushioned chairs and ottomans, or loveseats.
Adirondacks
A perennial favorite, Adirondacks on the lawn or porch practically shout, "welcome!" Try a pair or more of Adirondack chairs with side tables, grand rockers and even Adirondack combo swing/rockers built for two. Classic brick red is always a great choice, but nowadays Adirondacks come in practically every color of the rainbow, so have fun with it!
Whereas in the "good old days" all the Adirondack furniture was made of wood, now you can choose handsome pieces in poly-lumber which look like wood but are made to withstand years of heavy use and bad weather.
Poly Lumber Furniture
Patio World carries famous-maker top-of-the-line poly lumber furniture, whose popularity grows by the nanosecond! This is not your Walmart-K-Mart-Big Box merchandise. This is beautifully designed heavy-duty furniture that looks like wood and is molded and sculpted into collections both classic and contemporary. Our poly lumber collection is vast as it is gorgeous, and includes every category of furniture imaginable. Seeing is believing. Check our reviews for customers that return for more.
Teak and Distressed Teak
Teak is nature's wonder wood. It withstands the weather and actually looks better the longer it is exposed to the elements. See our teak collections with classic Danish modern lines and contemporary flourishes. Some of our Euro-style collections combine metal, rope and other materials with teak, all of which, including the teak are sustainable and recyclable sourced.
Distressed teak is the new darling of the outdoor design world. Pre-treated with a special technique, the teak pieces express a sweet, light gray patina, and are made to stay that way throughout their long lifecycle.
Consider teak planters, too. They provide a sleek statement and blend so well with the environment.
Cane and Rattan
Cane and rattan are experiencing a home décor renaissance, thanks to new construction and materials that create strong weaves of sustainable synthetic fibers.
You'll swoon over a suspended "hive chair" on your porch, a big-cushioned two-seater sofa with rolled, open "cane" arms, daybeds and queen-size chairs that combine metal frames, thick all-weather cushions and basketweave base and armrests.
Coated Metal
Clear your head of the concept of the "wrought iron" pieces of old, and come look at contemporary outdoor metal furniture.
Sometimes metal is the star of the show, other times it plays a supporting role as a base and sturdy silhouette for mixed materials that please the eye with great design and are as comfortable and durable as they are beautiful.
Padded high back chairs, rockers, daybeds, loungers, bistro sets and even a canopied sofa that swings (!) are among the not-your-mother's metal furniture you'll find at Patio World New Jersey.
Stop by and see our collections. We're open seven days a week and are happy to serve you.