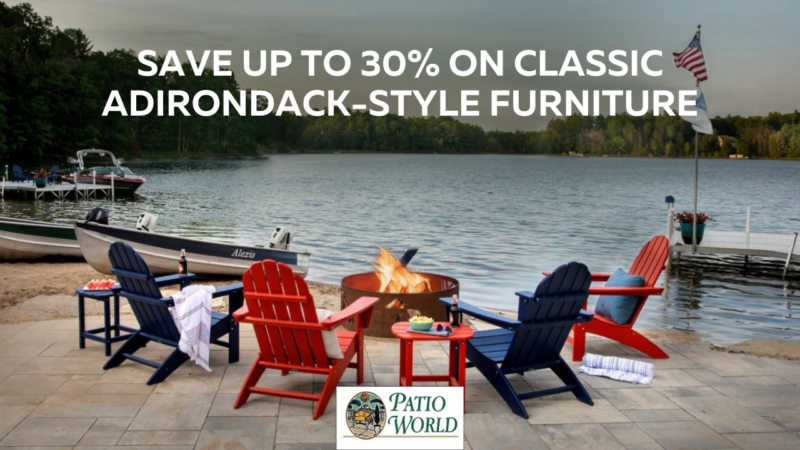 The Adirondack chair is a uniquely American symbol of outdoor relaxation, with its iconic paddle-like armrests, planked high back and deep seat. At Patio World NJ, we've got all-weather collections in delightful colors – always discounted from the manufacturer's suggested retail prices.
The classic Adirondack style is available in full outdoor furniture collections. We carry a wide array of Adirondack chairs, rocking chairs, benches, gliders, seating sets, dining sets, side tables and more. And the best part is, everything is up to 30% off, while supplies last.
Wood VS Poly Lumber
Although Adirondacks were known for decades as classic wooden outdoor furniture, the design translates fantastically in weatherproof, mildew and rot-proof AKA nearly indestructible poly lumber. The material takes to color beautifully, so now you have the option of owning an Adirondack chair collection in every color of the rainbow. Mix and match! And it's a no-brainer to add dining tables and chairs, and matching seating sets at any time.
Choose high quality Adirondack chairs from top outdoor furniture makers – in stock and ready for delivery. No supply chain issues at Patio World NJ!
We guarantee the lowest prices for your brand name luxury outdoor furniture selection within a 30-mile radius of our Lawrenceville, NJ store. Plus, we offer speedy White Glove delivery to NJ and PA.
We're known for great customer service and we look forward to serving you!
We'll be happy to advise you. Stop by to see our collections. Can't make it to the store? FaceTime tours and free consultations available. Call now.
We're known for great customer service and we look forward to serving you! We offer White Glove delivery to NJ and PA and we ship everywhere!