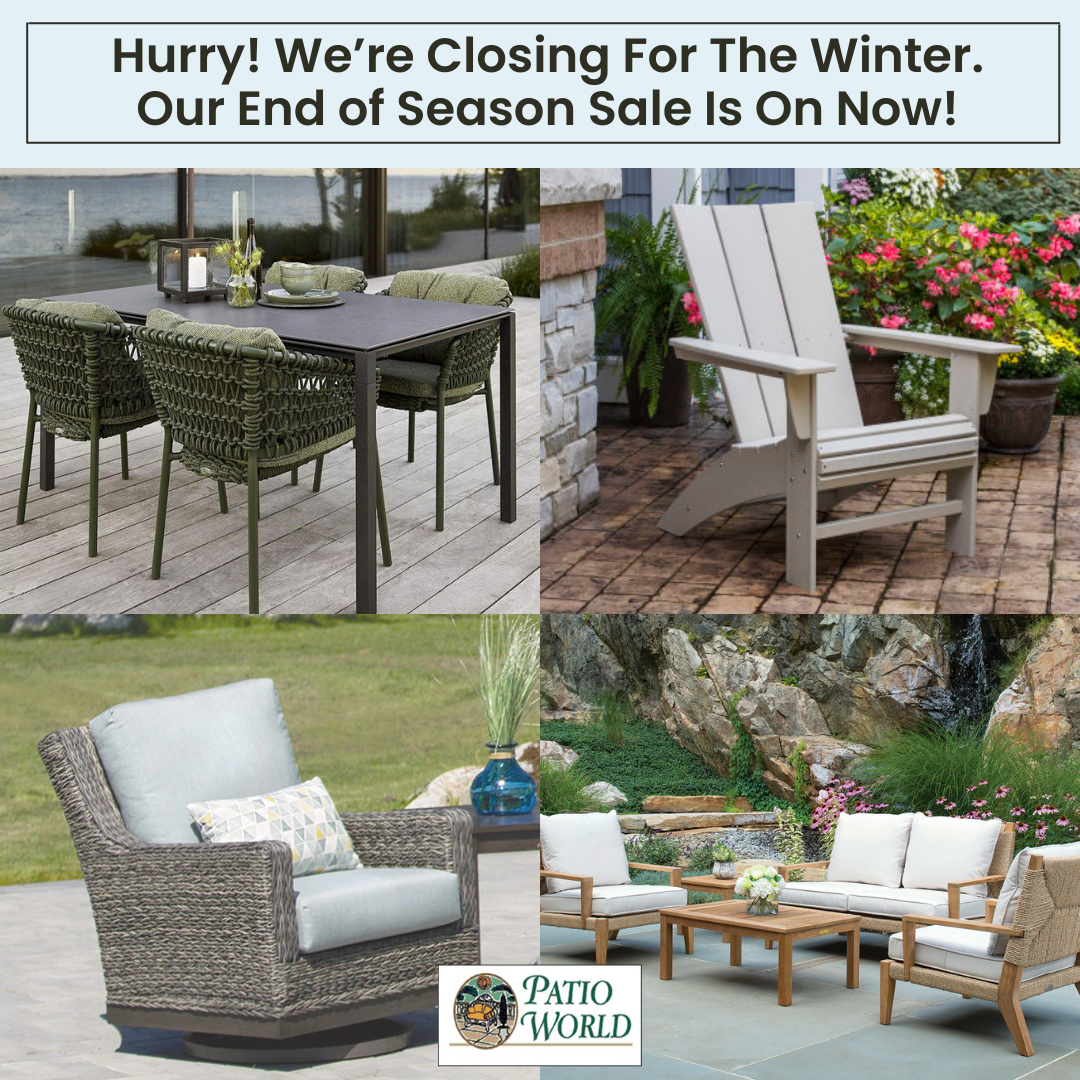 It's Our Final Clearance Before Closing for the Winter
New Jersey and Eastern Pennsylvania friends and neighbors: we love serving Mercer and surrounding counties. It's beautiful country, and despite the rainy September, it's going to be a beautiful fall.
So why not enjoy the autumn foliage, still-warm sunshine and cooling breezes to their fullest? These outdoor days are prized above all others!
At Patio World NJ, we're clearing the store for our annual temporary closing, and making room for deliveries of the 2024 collections, arriving soon. That means our customers get the best prices of the year on our 2023 inventory of high-quality brand name outdoor furniture and accessories.
Fancy a firepit table and chairs? You'll still enjoy it for months to come. Or choose a beautiful, intricately detailed coated metal dining set that looks as great indoors as out. Poly lumber is a great choice for the patio, indoor sunroom, family room or covered porch. It takes a beating from kids, pets and weather, and keeps its handsome looks with a minimum of care.
Snag a beautiful teak or wicker seating or dining set and tuck it away for a few months 'till spring. You'll feel like the smartest shopper on the planet!
If you can't get in to see us, call for a Facetime tour. We offer White Glove delivery to New Jersey and Pennsylvania, but we also ship anywhere. So, if you are among the snowbirds that fly south for the winter, get a great price on a beautiful seating set, dining set, lounger or club chairs, and we'll send them to safely arrive at your home-away-from-home!
October shopping at Patio World definitely has its benefits!